Revolutionary inflatable boards
Construction & Materials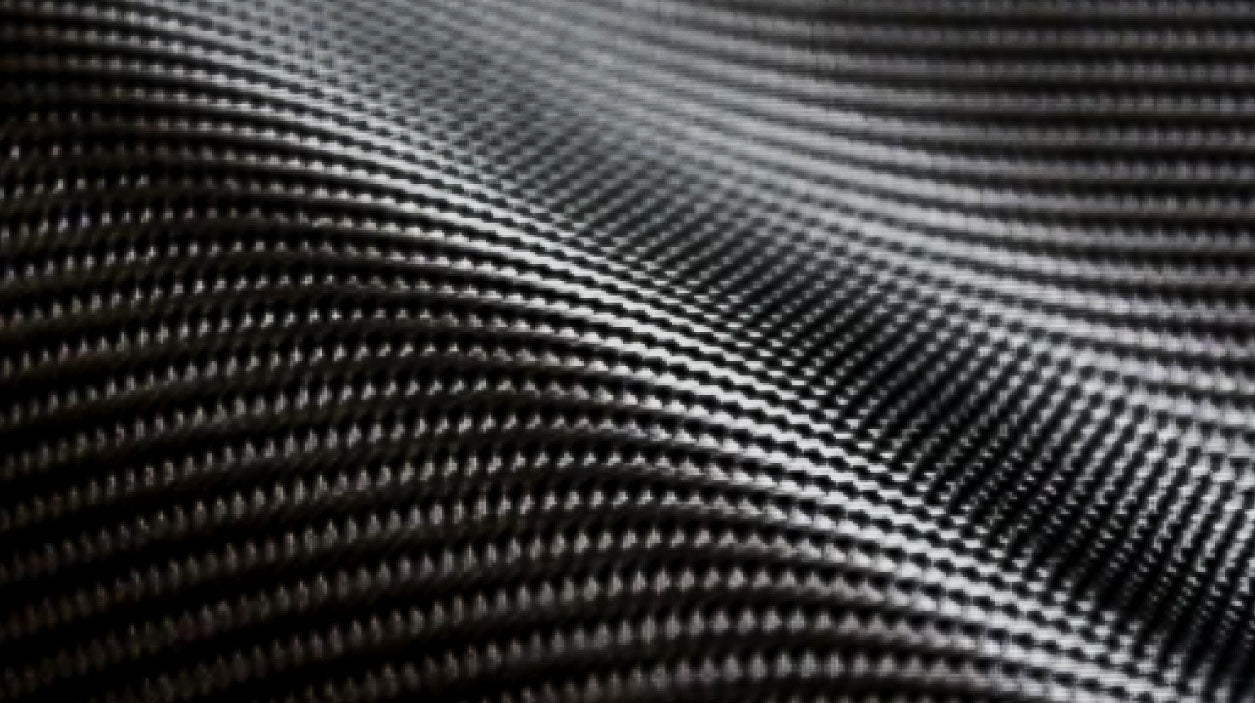 CARBON BAND
LAYER
A new 3K Carbon Band layer is applied on the deck area of the RACE SUP - METEOR and METEORLITE. The innovative Carbon Fiber extra layer offers additional stiffness and performance to the competitive range.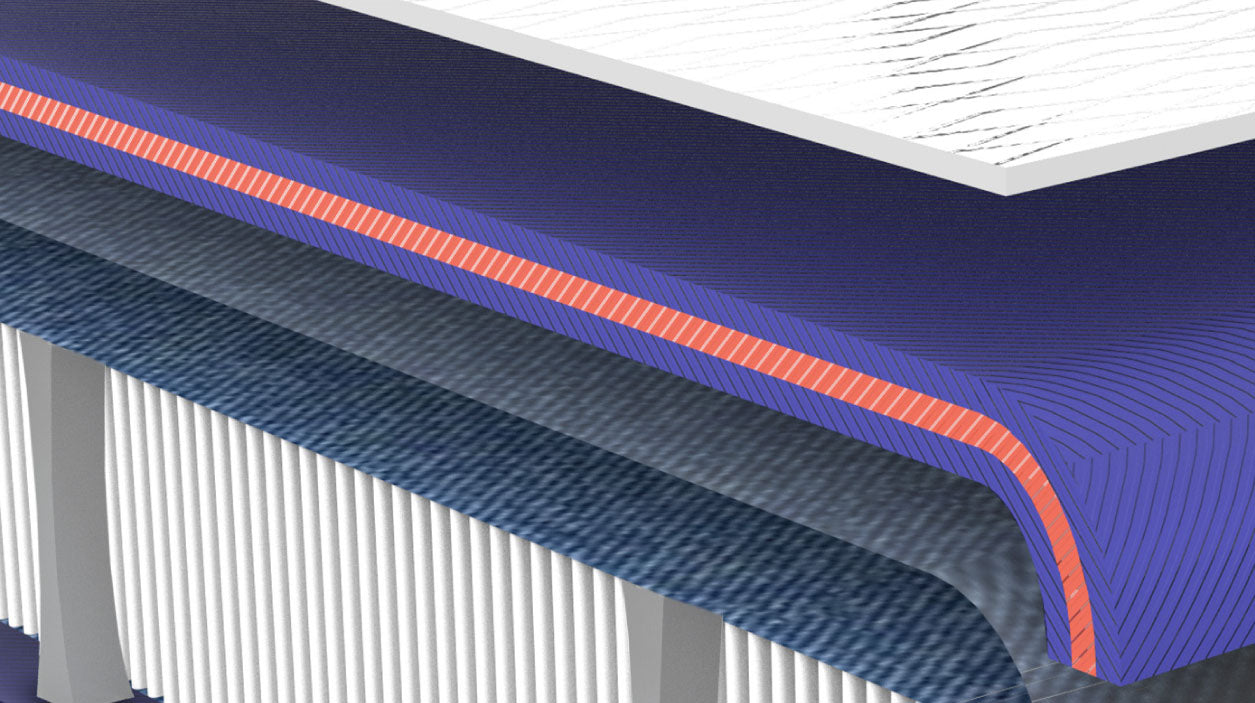 DOUBLE LAYER FUSION PVC
OUTER SHELL
The Double Layer Fusion TECH is our premium construction. Featuring a second PVC layer, which is machine welded directly to the drop-stitch core and around the I-Stitching or X-Stitching material. The benefits of the Double Layer Fusion construction when compared to the standard Double Layer Glue construction is a 20-25% reduction in overall weight, and around 25-30% increase in stiffness. Simply the best inflatable technology out there!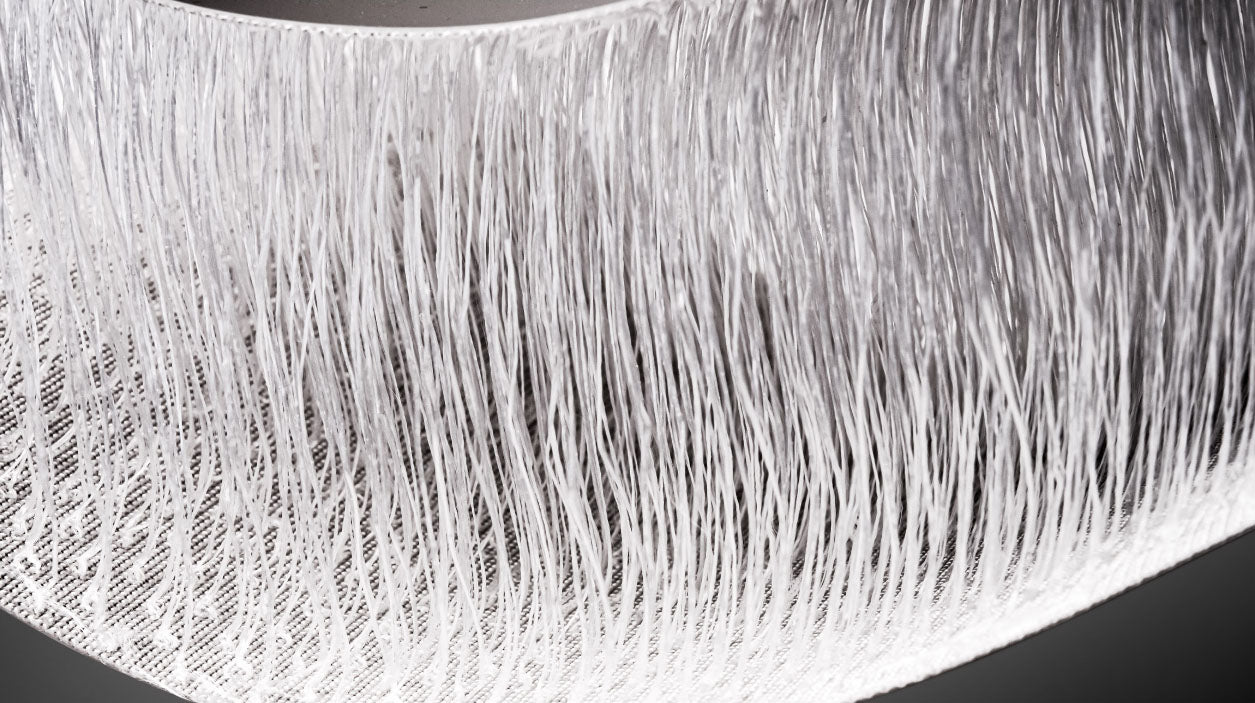 PREMIUM DROP-STITCH CORE
The drop-stitch core is the heart of every AZTRON inflatable SUP. The coreis built with two pieces of polyester woven support fabric with thousands of fine polyester threads. Each base material is about five to ten feet in width about approximately 400 needle heads per piece to finish the setup. Each needle sews a continuous and evenly spaced thread, back and forth between the top and bottom base fabric, locking them into an incrediblly strong unit. This innovative process creates a super strong inflatable material.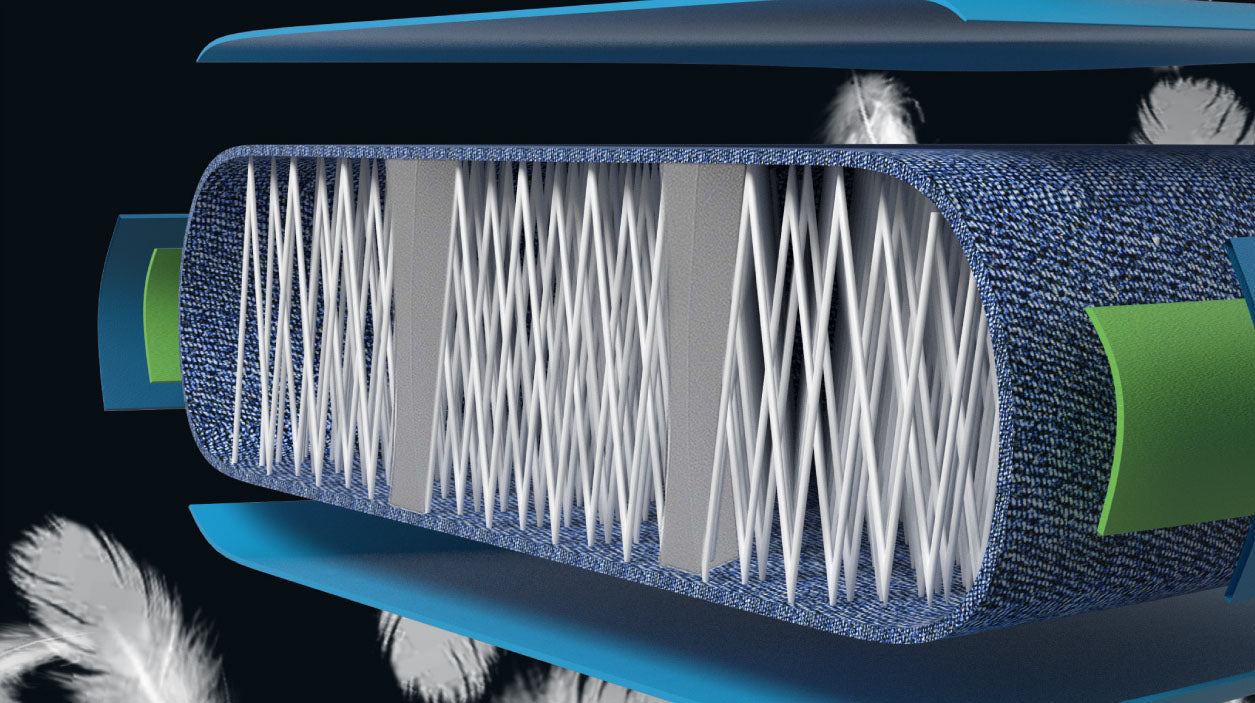 LIGHTWEIGHT,YET BUILT TOUGH
AZTRON's new woven X-Stitching drop-stitching technology provides a advanced structure of the polyester yarns. The new weave has a unique and less knitting method than the traditional I-Stitching one. This gives the board more strength, yet not compromising the board stiffness and helping to reduce the overall weight by at least 20%. We applied the Ultra-Light drop-stitch core on the All-Round and Race Range.
ULTRA-LIGHT DOUBLE DOUBLE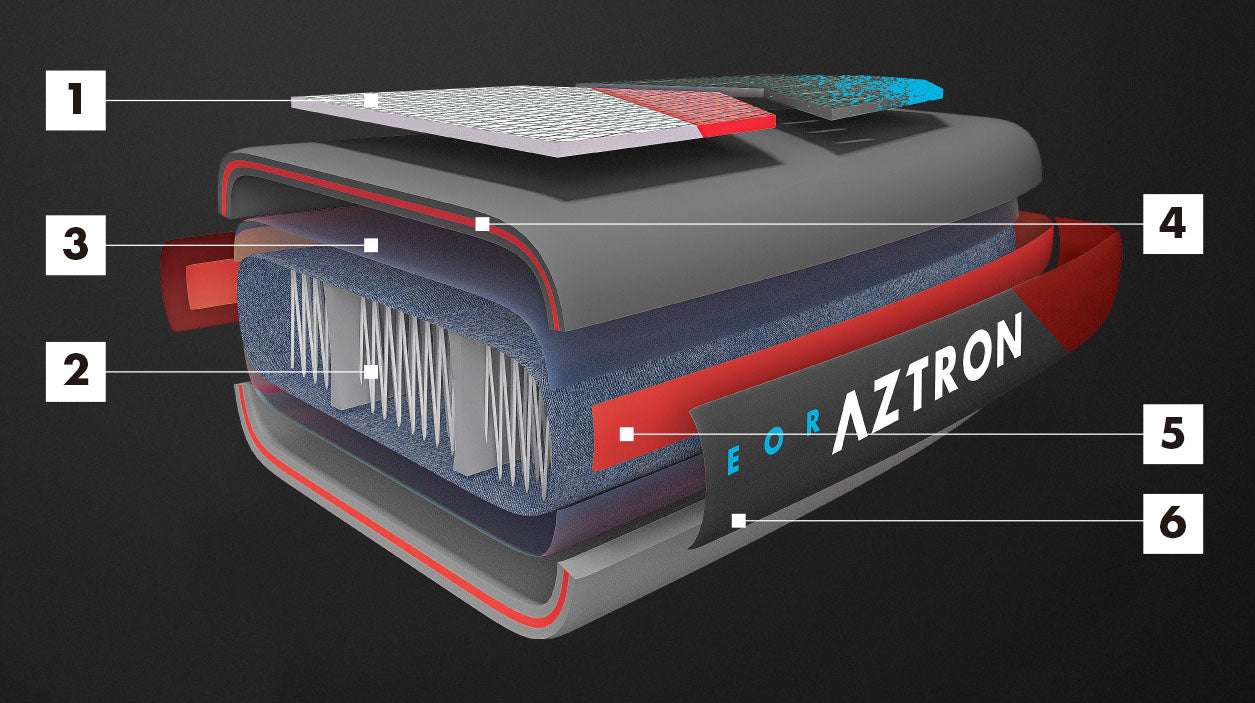 EVA Foot Deck
4mm thick diamond grooved soft EVA footpad for solid grip
Ultra-light X-stitching Dropstitch Core
Advanced X-Stitching woven nylon treads makes the board 20% lighter than traditional I-Stitching
Air-tight Coating
The coating layer connects the Double Fusion composite and base cloth, ensuring the fabric is 100% sealed seal
Wood/glass Matrix Insert
Additional wood/glass insert for extra strength
Double Fusion Layer
Air-tight inner PVC rail band is heat pressed and high pressure laminated, which ensures waterproof seal
Second PVC Rail Band
Creates final seal and gives extra compression and additional stiffness
DOUBLE DOUBLE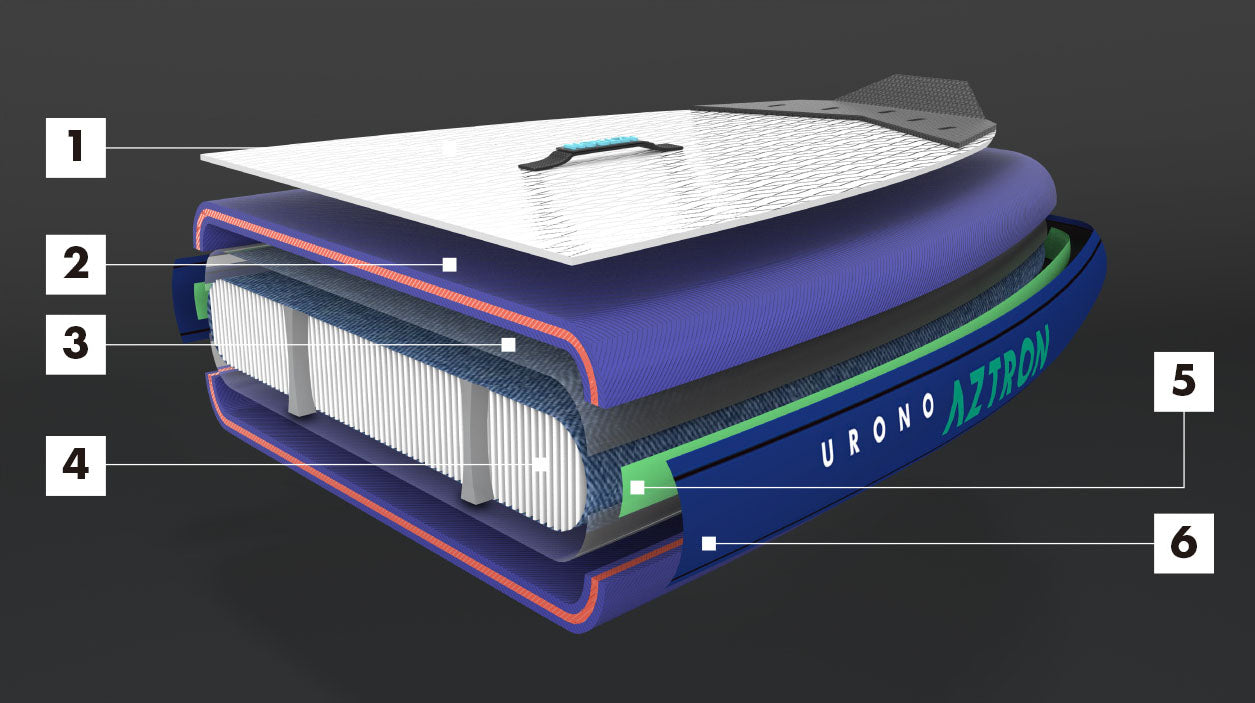 Soft EVA Foot Deck
5mm thick diamond grooved soft EVA
footpad offers traction and comfortable ride
Double Fusion Layer
The top double fusion layer connects top and bottom pre-laminated woven cloths that gives ultimate durability and stiffness
Air-tight Coating
The coating layer connects the Double Fusion composite and base cloth, ensures the fabric is 100% sealed seal
Drop-stitch Core
Hi-Density dropstitch filaments
with vertical yarn gives high tensile rigid core
Inner Rail Band
Air-tight inner PVC rail band is heat pressed and high pressure laminated, which ensures waterproof seal
Second PVC Rail Band
Creates final seal and gives extra
compression and additional stiffness
COMPACT DOUBLE
CHAMBER LITE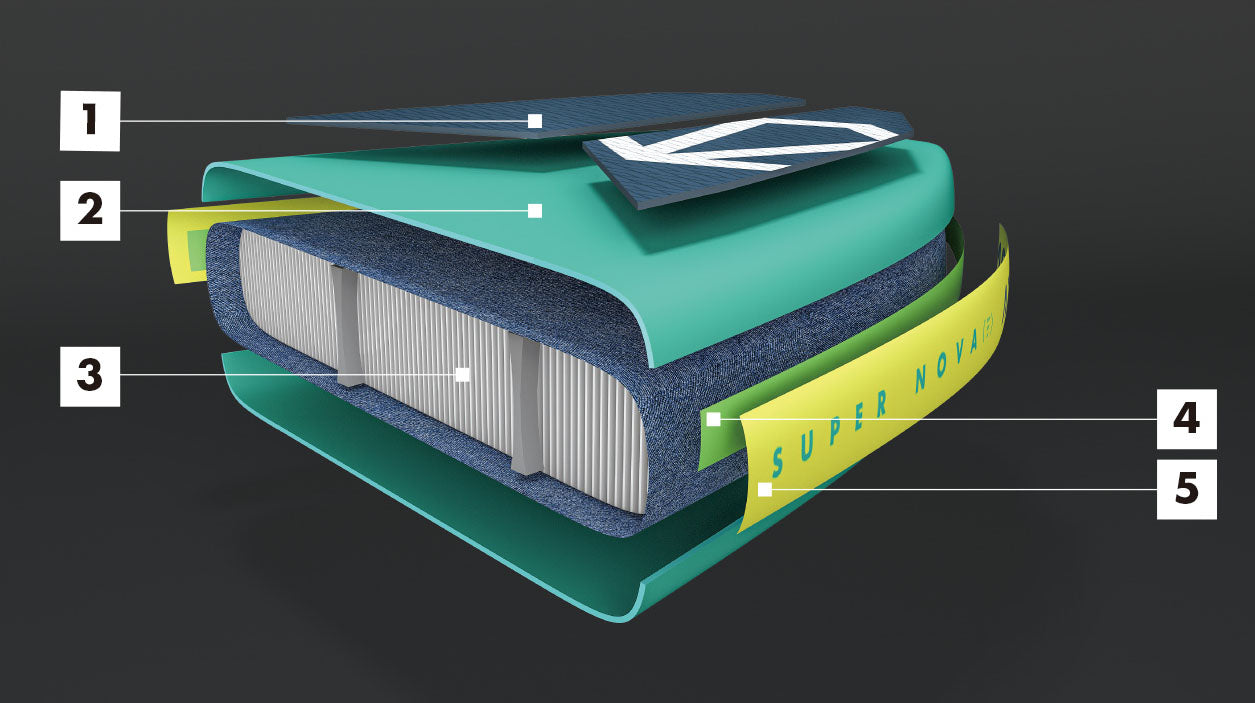 EVA Foot Deck
4mm thick diamond grooved soft EVA footpad for solid grip
Reinforced PVC Layer
The 1000D fabric in combination with the base cloth of the drop-stitch locks the fabric for ultimate in durability and stiffness
Drop-stitch Core
Hi-Density dropstitch filaments
with vertical yarn gives high
tensile rigid core
Inner Rail Band
The inner polyester rail layer connects top and bottom double layer composite
Second PVC Rail Band
Creates final seal and gives extra compression and additional stiffness